ASUSTOR Network Attached Storage (NAS)

NAS Buying Guide

Overview:
In the wake of technological advancements, digital information and data are being created in exponential amounts. In the past people have relied on their computers to manage their data, but today, smartphones and tablets can handle most of the tasks a computer can. The widespread adoption of technologies such as Wi-Fi and Bluetooth have shifted usage habits towards the convenience of mobile devices, with even digital cameras being able to connect to the Internet. The expansion of mobile technology has undoubtedly contributed to the exponential growth in digital data, increasing the need for digital storage solutions. Many people now have multiple mobile devices and computers, and the need to backup and manage all their data across all their devices is quickly becoming a hot topic. A practical and cost-effective solution to these new challenges is Network Attached Storage (NAS).
What is a NAS?
An ASUSTOR NAS or network attached storage is a computer appliance built from the ground up for storing and serving files. It attaches directly to a network, allowing those on the network to access and share files from a central location.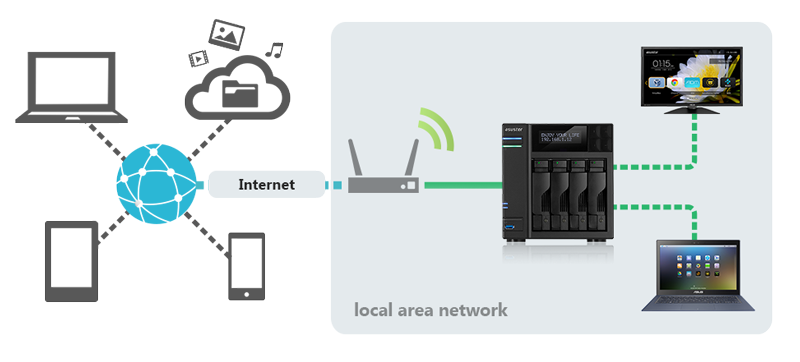 NAS + HDD = personal cloud storage space
A NAS is similar to a small computer. It consists of a motherboard, CPU, RAM, disk bays for hard disks and a dedicated operating system. ASUSTOR NAS devices are also designed with a variety of I/O connection ports for increased application flexibility.
With the advent of cloud computing, a NAS can be thought of as a type of private cloud storage service. The capacity of the cloud storage space can differ according to personal requirements. Currently, the size of the largest capacity hard disks available on the market is 8TB. Once you have a NAS, you can centralize all the data you have scattered across all your devices and can access it at any time. Having a personal cloud allows you to protect your privacy. Your NAS can be connected to your local network for private use or to the Internet. Even when open to the Internet, ASUSTOR NAS provides security features such as ADM Defender, HTTPS connections, access permissions configuration, encrypted folders, and antivirus protection that keep your data safe and secure.
Assessing Your Needs:
Even though the price may be the main factor when selecting a NAS other aspects should still be taken into account. You should assess a prospective NAS's stability, performance, hardware and software expandability, user friendliness of its interface, installation mechanism, quality of after-sales service and most importantly, whether it is able to meet your expectations during use. The ASUSTOR NAS models can be separated into different categories by the user groups that they are targeted at. These user groups are Personal/Home, Prosumer/SOHO, and Small to Medium Businesses/Enterprise. The ASUSTOR NAS models can also be classified by the number of disk bays that each model has. ASUSTOR NAS devices come in 2, 4, 8, 9, 10 and 12 disk bay models. You can also choose between tower and rackmount type models to suit your needs. You can use the information presented above to assess your primary needs. Below, we will provide additional factors in more detail for you to further take into account to help you select a NAS that meets your needs.
Budget
ASUSTOR NAS products utilize high performance Intel processors and are separated into low, middle and high price points according to their processor type. These processor types are Atom, Celeron, Core-i3 and Xeon. ASUSTOR also offers entry-level models with Marvell dual-core processors. For entry-level users on a budget, the 2, 3, and 31 series devices equipped with Atom/Celeron processors and the 10/40 series featuring Marvell processors come with a lower price tag. For prosumers and small business users that are after performance and application flexibility, the 50, 51, 61 and 62 series devices offer excellent performance with the mid-range Celeron processors at a mid-range price. For enterprise users, we can recommend the 70 series devices with their Core-i3 and Xeon processors.
Stable performance
ASUSTOR NAS devices utilize high quality hardware such as Intel Core-i3, Celeron and Atom platforms that can offer premium stability and performance. On the world-renowned NAS review and media website Smallnetbuilder, ASUSTOR's AS7004T is ranked first overall for performance among 4 bay NAS devices. ASUSTOR's AS5104 was ranked second. In addition to file read/write and transfer speeds, performance also includes smooth multitasking of applications, maintenance of stable system operation, an efficient cooling system featuring ASUSTOR's exclusive smart fan system that controls the system temperature. All these factors must be taken into account when assessing performance.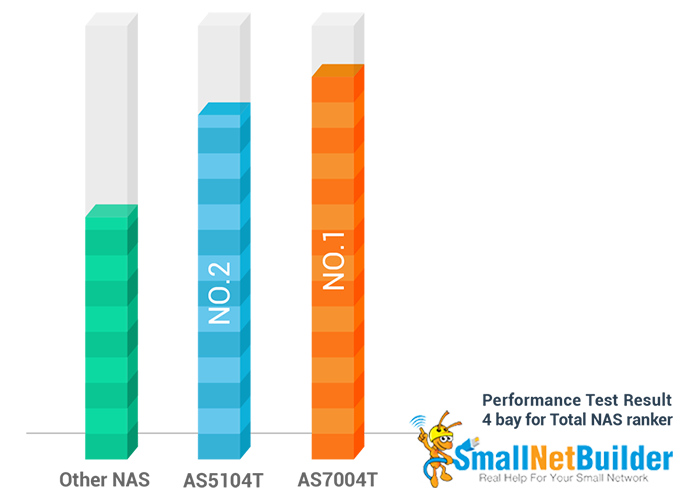 Number of drive bays
ASUSTOR NAS devices come in 2, 4, 8, 9, 10, 12 drive bay models. When selecting a NAS you should take into account the amount of storage space that you need and the RAID level that you wish to use. When creating a RAID 1 volume, a NAS with at least 2 drive bays is required (e.g., AS1002T, AS-302T, AS3102T, AS5002T). Creating a RAID 5 volume will require a NAS with at least 4 drive bays (e.g., AS5104T, AS6204T AS7004T, AS5008T, AS7010T). All ASUSTOR NAS devices also provide online capacity expansion and online RAID migration which helps users to effortlessly meet future expansion needs. Furthermore all ASUSTOR NAS devices feature seamless system migration which allows users to take out their existing hard disks and insert them into a different ASUSTOR NAS system to enjoy instant access to all their data. This is extremely convenient when upgrading to a more powerful NAS.

Hardware and software expandability
Whether or not a NAS has sufficient hardware expansion flexibility is very important to businesses. Different ASUSTOR NAS series feature different hardware expandability options and support such as USB 3.0/2.0, eSATA and LAN ports, expandable memory, or 10GbE Ethernet card support. For example, for ASUSTOR's 5 series devices, the 2-bay and 4-bay models feature dual Ethernet ports while the 8-bay and 10-bay models feature quad Ethernet ports. ASUSTOR's 50, 51, 61, 62 and 70 series devices also feature expandable memory while 7 series devices feature support for 10GbE Ethernet cards on 8-bay models and up. Models designed for use in the home such as the 2 and 3 series feature 3.5 mm audio jacks while the 5 series devices feature support for S/PDIF audio output. With regards to software expandability, all ASUSTOR NAS devices feature the exclusive App Central NAS App repository which features over 200 unique Apps. Users can download these Apps free of charge to add functionality to their NAS devices. When selecting a NAS, the type of functionality provided by the should be considered based on individual needs. Examples of functions to consider include multimedia playback, surveillance camera management, Windows environment integration, cross-platform access, mail server requirements, VPN server requirements and more. Software and hardware expandability is important to consider and should influence your choice of NAS.
Capacity
When selecting a NAS to create your own personal cloud storage space, the storage capacity you need is a very important point to consider. Your storage capacity needs and RAID level that you wish to use will directly affect the size of the hard disks you use and the amount of disk bays you will require in your NAS. ASUSTOR NAS also features online capacity expansion which allows you to grow the storage capacity of your system as your needs increase, providing for flexible management. Furthermore, the MyArchive function allows users to effectively achieve unlimited storage capacity expansion. MyArchive allows users to use NAS hard disks as removable storage archives. This convenient function can be used for the creation of unlimited storage archives that they can be removed from the NAS when not in use.

Ease of use
The aesthetics and user friendliness of the system interface directly influences whether or not users will want to use a product. When selecting a NAS you should consider the NAS operating system's overall design and operation, making sure that the interface is one that you will want to use again and again. All ASUSTOR NAS devices feature ASUSTOR's original ADM (ASUSTOR Data Master) operating system, featuring simplified operation and management. ADM offers a usage experience similar to ones found on mobile devices making it intuitive and easy to use, with virtually no learning curve. This lowers the barriers for first time users, allowing them acclimate quickly. ADM also features a variety of customizable options for system wallpaper and login screen allowing users to personalize their NAS.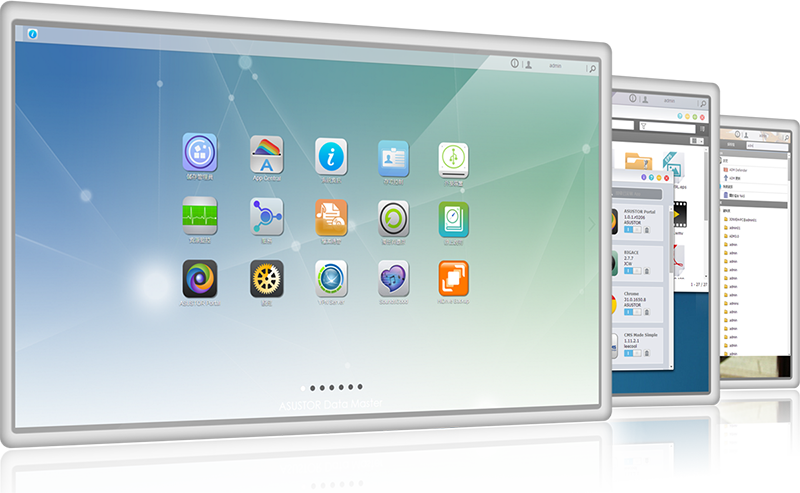 Security mechanisms
As a NAS is normally connected to the Internet, you will need to take note of the type of security mechanisms that your prospective device offers. The type of security mechanisms to look for include secure connections, data encryption, firewall and antivirus. ASUSTOR NAS includes all of the mentioned security features and also includes the MyArchive function which allows users to store important files on MyArchive disks for safe keeping when not in use.
Firewall
AES-256 Bit Shared Folder Encryption
Trusted List, Black List, GEO IP
VPN Connections (PPTP, OpenVPN Connection)
HTTPs Connections (Web page, mobile devices)
Encrypted Connections (FTP SSL/TLS、SSH、SFTP、Rsync and SSH)
Event Notifications (Email, SMS)
Lockable Disk Trays (51/62/7 Series)
Energy efficiency
A NAS primarily provides constant always-on service, therefore a stable and energy efficient device is should be one of the key points to take into consideration, especially for businesses. In addition to basic power scheduling functions, other energy saving functions to look for include system sleep mode, LED power controls, flexible power management settings. ASUSTOR NAS provides a variety of easy to use power control mechanisms that allows users to save a significant amount of power.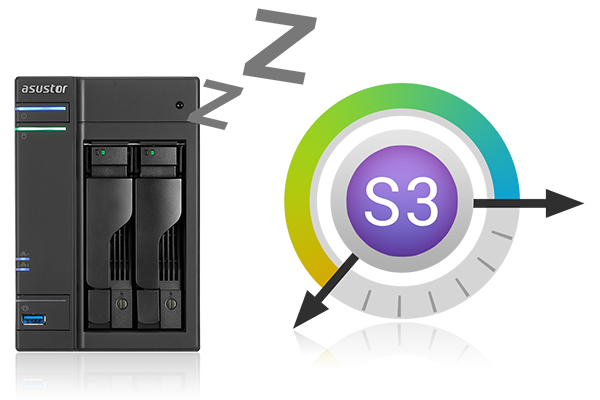 Service
After selecting a NAS appropriate for your budget and needs, you will need to consider the product warranty and the quality of after-sales service. Does the NAS include a detailed user manual and tutorials? Are there regular firmware updates with new features? Are there multiple channels for technical support? Does the technical support staff provide timely and helpful support? Make sure to select a NAS that provides service with all of these attributes.
Why ASUSTOR NAS?
Record only when you need to
Surveillance Center offers you a variety of recording options. No matter if you need scheduled continuous recording or recording only when certain events occur, Surveillance Center is sure to satisfy your needs. Surveillance Center's various recording modes are listed below: 
Manual Recording: While viewing a live feed, you can click on the record button at any time to begin or stop recording. In the event that you do not stop your recording, Surveillance Center will record until your designated recording quota has been reached. 
Continuous or Scheduled Recording: Whether you require 24/7 continuous recording or recording only during a specific time, Surveillance Center can get the job done ensuring that you never miss any critical moments. 
Motion Trigger Recording: In the event that any motion is detected in the surveilled environment, Surveillance Center will immediately begin recording, allowing you to save significant space on your hard disks and ensuring that you never miss any critical moments. 
Alarm Trigger Recording: Triggering recording via a camera's alarm mechanism allows you to precisely record all critical events. Not only does this save space on your hard disks but also lowers the amount of reading and writing on your hard disks, prolonging their life. 
Motion Trigger and Alarm Trigger Recording: This mode combines motion trigger and alarm trigger recording. If either mode is triggered, recording will begin immediately. This is a comprehensive recording mode that ensures you will never miss any critical moments.
HDMI output
ASUSTOR is the first in the NAS industry to incorporate HDMI local display output. This allows users to flexibly and easily create a home multimedia hub while enjoying the core cloud storage applications of NAS. ASUSTOR's exclusive ASUSTOR Portal App expands HDMI functionality by bringing together multiple HDMI applications including the ADM management interface, Google Chrome Web browser, XBMC multimedia player and Surveillance Center. This enables users to play multimedia stored on their NAS, browse the Internet and monitor surveillance feeds on their TVs or monitors without having to use a computer. Users effectively get the added value of a computer, media player and NVR surveillance system for free with their NAS. Furthermore, ASUSTOR's Surveillance Center provides 4 free camera channel licenses, which is more than the industry standard. An ASUSTOR NAS allows users to save money, power and space by providing the functionality of many devices in one compact package.

HDMI 2.0 Combined with 4K/UHD Output Provides Crystal Clear Quality Displayed Perfectly
The AS63/64 series supports next generation HDMI 2.0 specifications, featuring up to 60/50P resolution video which provides twice the fluidity of 30P. No matter if it's your treasured collection of Blu-ray quality movies or videos that you have recorded with professional quality cameras, ASUSTOR NAS can perfectly display all of it in crystal clear quality.
*Please note that in order to play 4K/UHD 60P videos, you will need to use a HDMI 2.0 cable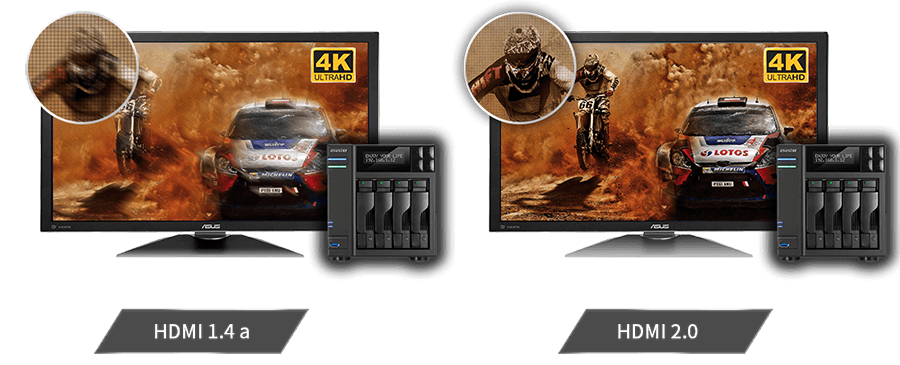 WOW (Wake on WAN) Always on Standby
Want to access the data on your NAS at any time, but worried that leaving it powered on for a long period of time will result in costly power bills, wear and tear on your hard disks and NAS or that you will become the target of hackers? ASUSTOR is the first vendor in the NAS industry to offer Wake on Wan support on the AS63/64 series easing all of the doubts mentioned above! WOW (Wake on WAN) allows you to enable all NAS services via the Internet, providing added flexibility for powering on/off the NAS. This allows you to save power, extend the life of your NAS and hard disks, and lower your chances of being randomly hacked, ensuring data security.
Rich variety of functions
NAS solutions have come into focus in recent years because of their software. The openness of the Linux operating system that many NAS devices are based on has spurred many enthusiastic users to contribute and develop applications and functions for NAS. With people growing more accustomed to the intuitive interfaces of their mobile devices, ASUSTOR has decided to transfer over this same intuitive experience when developing ADM. In addition to basic system functions users can use App Central to search for add-on applications to install on the NAS. Like Google Play or App Store for mobile devices, App Central provides a variety of Apps for ADM, free of charge. The large variety of App categories, easy to use interface and one-click installation make it simple for even entry-level users to use.
Although a NAS's functions are based primarily on backup and storage, ASUSTOR NAS was designed with customizability in mind, providing a variety of functions via App Central that users can use to customize their device. For example, ASUSTOR's unique HDMI hardware feature can be used in combination with ASUSTOR Portal and Multimedia App to turn your NAS into a dedicated digital entertainment hub. Users can also install Surveillance Center to create a surveillance system with video feeds that are viewable on their TV via HDMI. All this is possible and more with ASUSTOR NAS.

Cross platform file access
ASUSTOR NAS devices provide seamless cross-platform file sharing, allowing you to easily connect to your NAS device no matter if you are using Windows, Mac OS, or Unix-like operating systems. ASUSTOR NAS also features Cloud Connect technology for convenient remote access. Cloud Connect gives you an easy to remember hostname that you can use to connect to your NAS from anywhere. No matter if you are far from home, on your mobile device or at work, all you need is your simple hostname to instantly connect to your NAS. ASUSTOR also provides added security for remote connections with all mobile apps featuring HTTPS encrypted connection options and passcode lock, ensuring for a safe NAS experience. Furthermore, ASUSTOR is the only vendor in the industry to provide NAS system initialization via mobile devices. This means that users can complete setup of their NAS system using only their mobile device, providing a type of convenience that no other NAS on the market can match.

Flexible capacity expansion
90% of NAS devices on the market do not come with hard disks included. After purchasing a NAS users must also purchase hard disks, with the type of hard disks depending on their storage needs. Once storage space starts to fill up and the disks you started with are not enough, you can utilize ASUSTOR's online capacity expansion function to upgrade to higher capacity hard disks. Online capacity expansion means that you can easily swap out all your old disks for higher capacity ones without turning off your NAS. During the capacity expansion process, while your data is being transferred over to the new disks, you will still be able to access everything on the NAS. Moreover, you can also use the MyArchive function to create an unlimited number of MyArchive hard disks, effectively achieving unlimited expansion.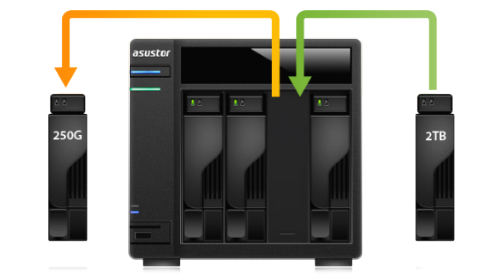 Convenient system migration
An advantage of purchasing an ASUSTOR NAS is that it supports seamless system migration. With system migration, when it's time to move your storage volumes to a new ASUSTOR NAS system, simply take out your existing hard drives and then insert them into the new system. The new system should be up and running instantly. This function is especially convenient for business users who can upgrade their NAS as the scale of their business expands.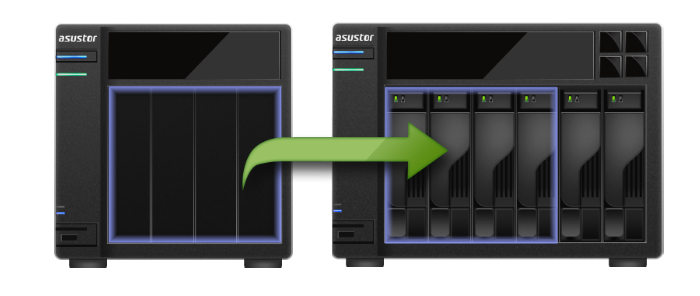 Energy efficiency
ASUSTOR has developed its NAS products with stability and energy efficiency in mind, in order to help users save on their power costs. Power saving features in each ASUSTOR NAS device include ErP, power scheduling, internal and external hard disk hibernation, system sleep mode, night mode LED power controls and flexible sleep mode deployment where the time interval where the system is able to enter into sleep mode can be configured. The MyArchive function can also be used to save on energy costs as hard disks that are not in use can be taken out and stored instead of always being plugged in. Moreover, ASUSTOR NAS also features the fastest wake times from system sleep mode S3 in the industry. All ASUSTOR NAS device can wake from sleep mode within 1.5 seconds, providing extreme efficiency while not affecting the productivity of businesses.
High quality after sales-service
It is ASUSTOR's goal to offer continuous first-class service. ASUSTOR offers 3 year warranties on all products and also provides frequent online firmware upgrades that lets users receive new and improved functionality. Furthermore, ASUSTOR provides multiple channels for technical support including an online tech support system, knowledge base, forum and direct telephone support. Additionally the exclusive built-in Dr. ASUSTOR function on the NAS performs general checkups of settings on the NAS and offers exportable health records. These records can be submitted to ASUSTOR technical support staff during a support session in order to help them quickly pinpoint and resolve any issues, giving users efficient and stress-free support.
ASUSTOR NAS offers incomparable unique functions
ASUSTOR NAS not only provides basic NAS functionality but also includes a variety of unique and innovative features that are sure to give you a more enjoyable NAS experience.

Searchlight: Fuzzy searches of files and functions on the NAS.

Sign In Page: Customizable page style, background and image.

Sign In Page: Customizable page style, background and image.

Mission Mode: Ensure the completion of backup jobs by configuring the time interval or number of attempts

FTP Explore: Connect to other NAS devices or FTP sites from within ADM to transfer files. Resuming downloads is also supported.

Cloud Connect: Free DDNS service providing convenient remote access

ASUSTOR Portal: HDMI TV App that integrates ADM, Chrome Web browser surveillance feeds and more.

Instant wake from System Sleep Mode S3: An industry first, quickly put the system into sleep mode and wake it back up in only 1.5 seconds.

Night Modes: Turns of LED indicators so as not to disturb users during the night.

Local Display for Sureillance Feeds: Provides 4 free camera channels that can be viewed via HDMI on a TV.

Dr.ASUSTOR: Performs general checkups on all your settings and provides appropriate recommendations.

Mobile Apps: 8 different mobile apps for convenient NAS access while on the go.AiMaster provides exlusive initialization function allowing you to set up your NAS without a computer.
The NAS with the optimal price to performance ratio

Smart TV-like ASUSTOR Portal - save over $300

Create a high fidelity audio system - save over $100

2K/4K high definition multimedia player - save over $100

Create a reliable NVR surveillance system - save over $300

4 free camera channel licenses - save over $100

Over 200 free NAS Apps to expand NAS functionality - priceless

Free mobile apps - priceless

Ensure data security and save all your memories – priceless