ASUSTOR Data Master (ADM)

Prepare yourself for a dynamic new experience that will change the way you think about digital storage

Contact Us For More Information
Overview:
Simple, intuitive and easy to use
ASUSTOR Data Master (ADM) is the dedicated operating system for all ASUSTOR NAS devices. If offers an intuitive and familiar user experience similar to most tablet device interfaces, effectively providing zero learning curve.

Your NAS, your style
ADM allows you to customize the sign in page style and images giving your NAS a unique look. Furthermore, an additional variety of customizable options help you to create a truly personalized NAS.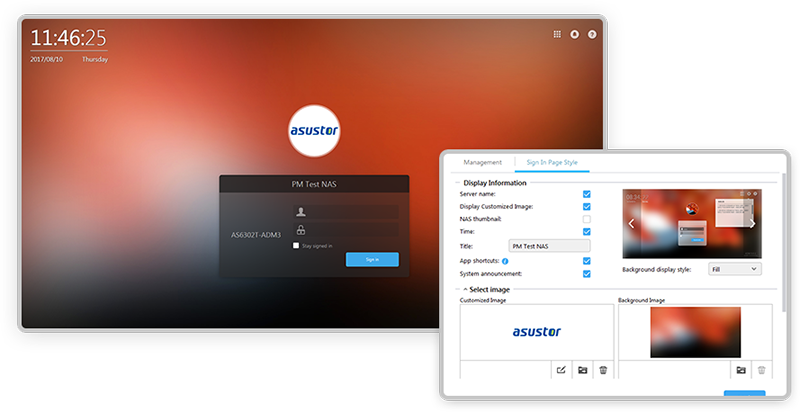 24/7 convenient file access and backup
ADM provides seamless cross-platform file sharing, allowing you to easily access your NAS from Windows, Mac OS X, or Unix-like operating systems. Furthermore, your data is always within reach no matter if you are using a PC, notebook, tablet or smartphone. ASUSTOR NAS offers a complete host of data protection and backup solutions. Features such as RAID and two-way transfer support offer bullet-proof protection and flexible application. Savor a stress free and liberating user experience.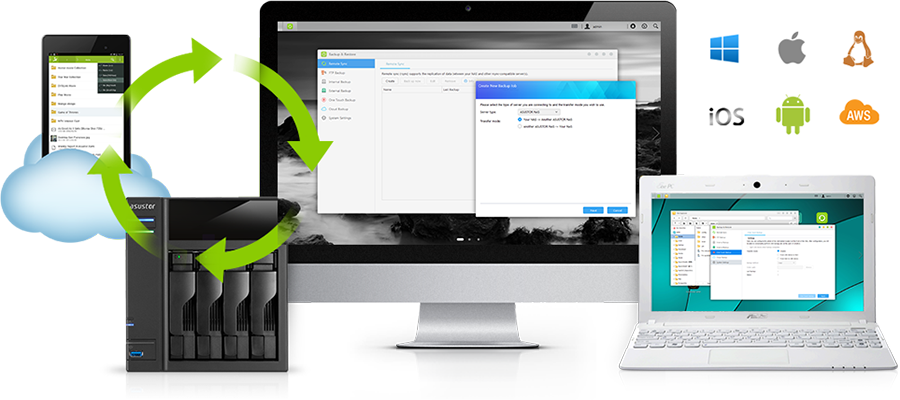 Seamless system migration
When it's time to move your storage volumes to a new system, simply take out your existing hard drives and then insert them into the new system. That's it. Your new system will be up and running instantly.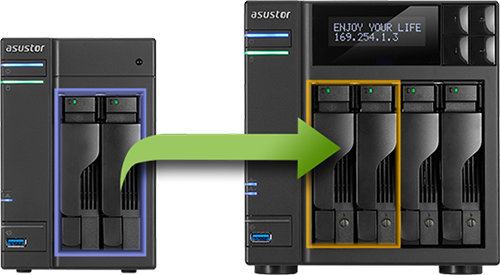 Awesome add-on functionality with just one click
ADM's exclusive App Central App repository contains countless surprises. Install a variety of unique Apps for free with just a single mouse click.

Light up your digital life
ASUSTOR NAS offers a variety of exciting digital entertainment possibilities. From multimedia streaming, to high quality audio experiences to the game-changing ASUSTOR Portal, all can be had via free add-on Apps.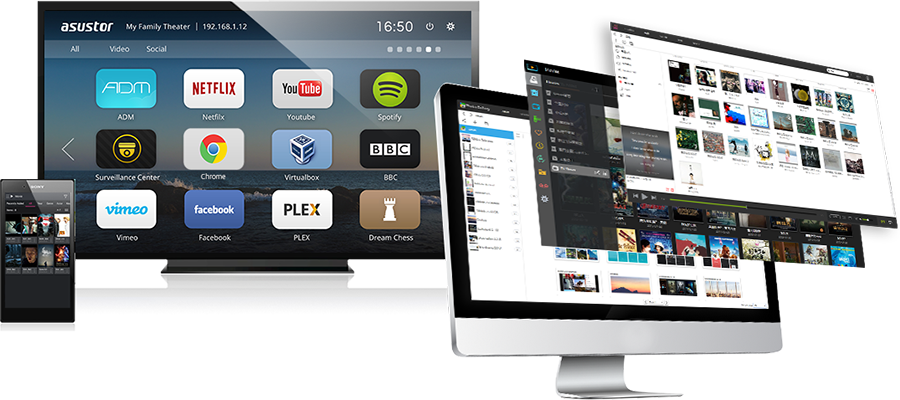 Refreshed Sign In Page Design:
The sign in page now gives you the ability to configure the background and title along with a customized image. Now it's time to get started on designing your very own customized sign in page!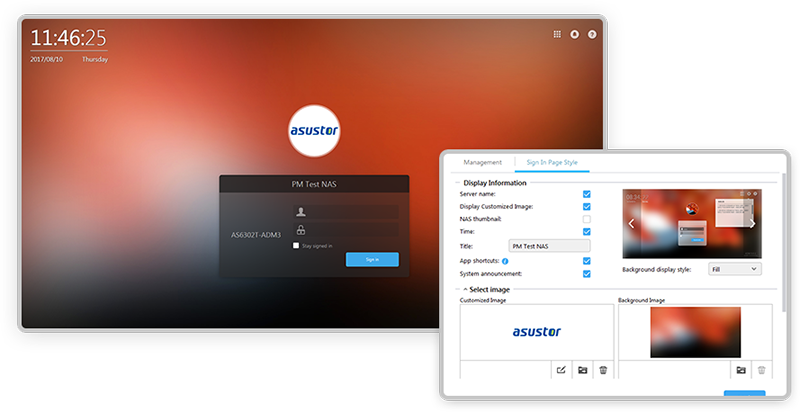 Convenient System Announcements
The system announcement function allows administrators to post or schedule announcements. This replaces the system administrator having to notify users via emails or text messages and can help to quickly get the word out about any important information. Announcements can be configured to be displayed before, after or during log in. Businesses can use this function to announce backup times, system maintenance times or other important events to employees while regular users can use the function to inform family and friends about any newly uploaded photos or videos that they wish to share.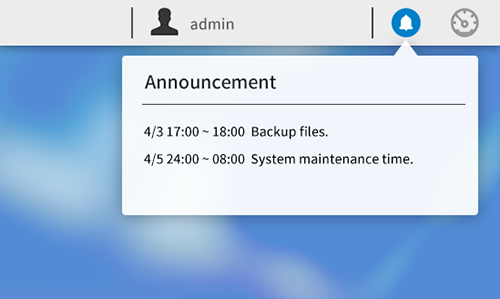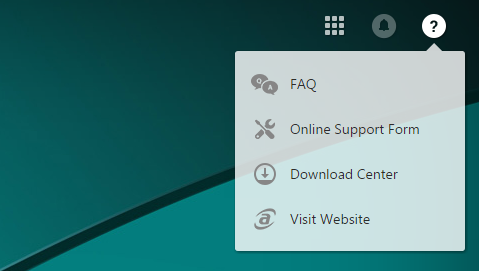 ADM Online Help Assistant
In order to help users quickly get started with ASUSTOR NAS, ADM 3.0 provides an online help assistant before and after logging in to the system. The inquiry icon in the upper right-hand corner of the interface helps users access FAQ, technical support, download center and the official ASUSTOR website for even more information. After logging in to ADM the Online Help information guides users by providing information for ADM core functions and links to forums, downloads, compatibility tables, tutorials and technical support.
App Shortcuts
ASUSTOR has simplified the Photo Gallery, SoundsGood, LooksGood and Surveillance Center login process by adding a new shortcut option. Users only need to install these four Apps and then select the shortcut option under the settings menu and they will be able to pin these Apps into the upper-right corner of the ADM login screen. This allows users to skip over the ADM login process and quickly access the dedicated page for the App they want to access, login there and then begin to use the App.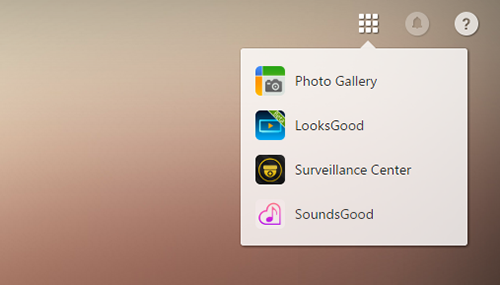 Simplified Management:
Batch creation and importation of ADM accounts
When setting up a shared server, system administrators often have to spend a lot of time creating user accounts. ASUSTOR now provides a more convenient and efficient way to do this. Via ADM's batch creation function, you can quickly create multiple regular sequential user accounts (e.g., student numbers). With regards to irregular non-sequential account creation, you can enter account data into a text file (*.txt, *.csv) and then import it into ADM to create accounts. During importation, the system will also check for the integrity of account data and indicate any errors making them convenient for system administrators to correct.

Autonomous Firmware and App Updates
When system resource use is maximized, executing system updates may affect system operation efficiency. ASUSTOR provides flexible scheduling that allows administrators to schedule firmware version checks and updates during appropriate times in order to avoid high system loading or busy network traffic. Also, new update settings have also been added to App Central. App Central can now check for ADM and App version compatibility and then proceed to automatically update Apps. Updates can also be scheduled for times when the system resource requirements are low.


Preinstalled Apps for Home and Business Use
ADM 3.0 optimizes the App installation process by adding a usage option during system initialization. Users can now select from between "Home and Personal Use" and "Business Use" when installing ADM and have corresponding Apps installed during the initialization process. After initialization is complete, the Apps will immediately be ready for use. This saves users from having to manually install the Apps.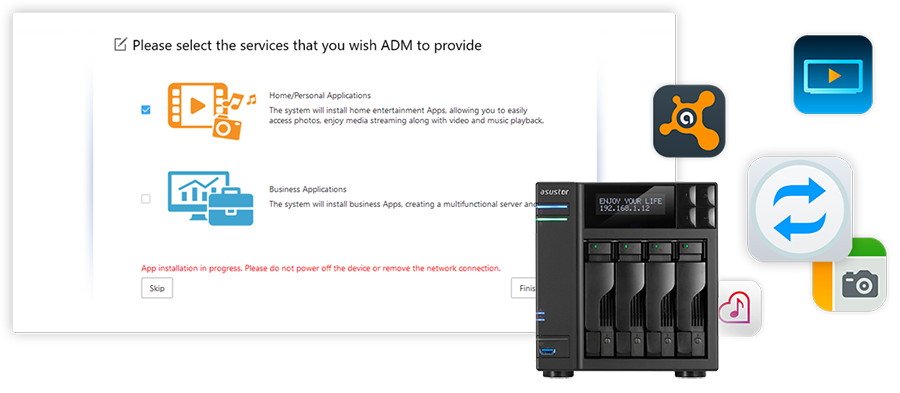 Easily Keep ADM and All Apps Updated
ADM 3.0 introduces App and ADM system upgrade prompts. If there are items that can be upgraded, App Central and the Settings icon will indicate the number of upgradable Apps via a notification bubble. Upon logging in to ADM users will be able to view the number of updates available. Combined with the scheduled upgrade function, this allows users to easily make sure everything is always up to date.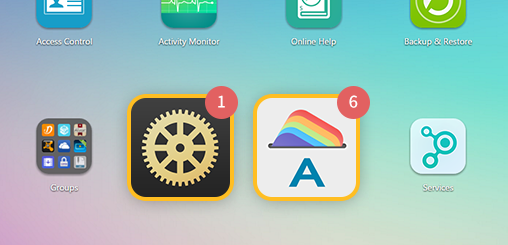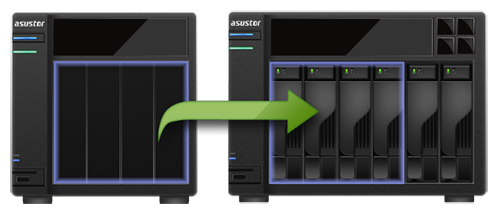 Seamless system migration
Outgrowing your system? Time for an upgrade? With ASUSTOR NAS, switching to a higher capacity NAS model is a piece of cake. When it's time to move your storage volumes to a new system, simply take out your existing hard drives and then insert them into the new system. That's it. Your new system will be up and running instantly.

Dr. ASUSTOR
As the name might suggest, Dr. ASUSTOR acts like a family physician and performs general checkups on all of your settings. If certain settings are found to be compromising the security of your system or data, Dr. ASUSTOR will provide you with the appropriate set of instructions to fully restore security and protection.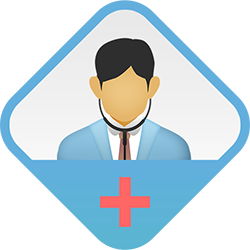 Enhanced convenience for network management with SNMP
Simple Network Management Protocol (SNMP) provides a set of standards that allows managers on a single network management system (NMS) to collect information from all network equipment for convenient monitoring and maintenance. ADM 2.4.0 supports SNMP v1, v2c, v3 and also provides a trap setting that can actively notify the NMS of significant events.

Searchlight:
Quickly find the items you need
Can't find that song on your NAS that you want to share? Use Searchlight to instantly find that song and send a Share Link to your friend! Developed by ASUSTOR, Searchlight is a rapid search technology that is built into ADM and provides quick and precise searches allowing you to easily find the files that you need. Searchlight also features instant file previewing and fuzzy searches, substantially increasing your efficiency and productivity.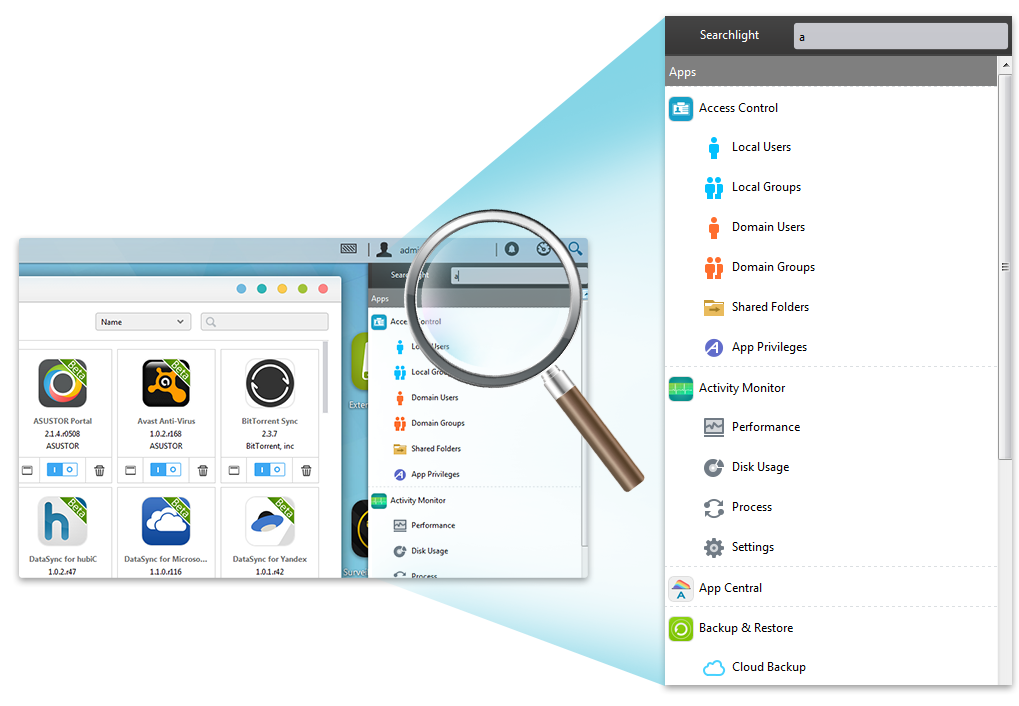 User Interface:
Intuitive controls
Using a NAS has never been easier. ADM's fresh and vibrant user interface features intuitive and familiar modern OS controls. With ASUSTOR NAS you'll never have to worry about a steep learning curve.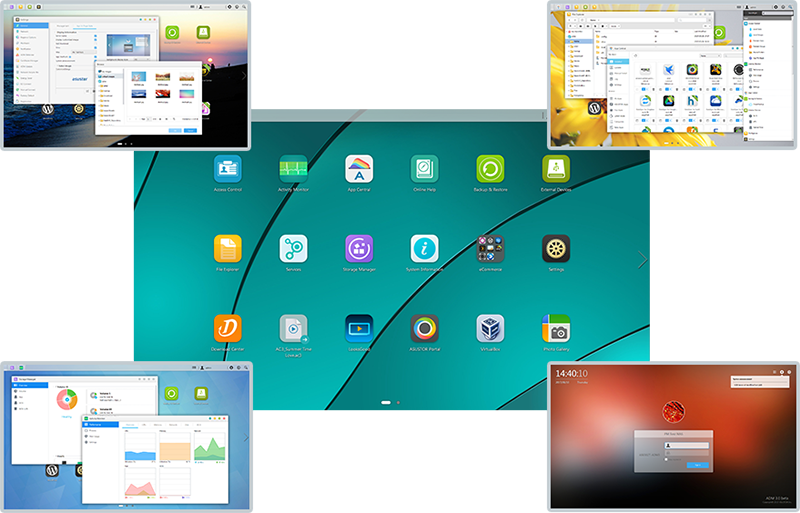 My Favorites
The My Favorites feature lets you quickly open your most frequently used applications by pinning them to the taskbar, increasing your productivity and efficiency.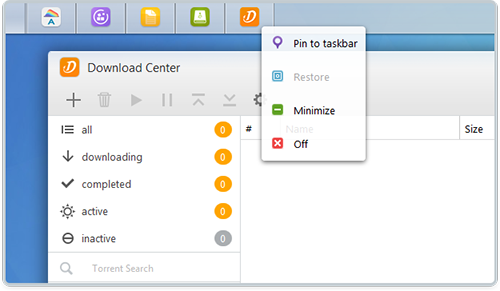 Personalized desktop
Customize your desktop to your liking. Whether it's organizing your Apps or changing your home screen wallpaper, ADM gives you the freedom to design the look and feel of your desktop. Furthermore, the 'My Favorites' feature lets you pin frequently used applications to the taskbar allowing for easy access.

Customizable Themes
Desktop background themes can be changed according to user preferences. Users can also upload their own images to use as the desktop background. The interface font and window button colors can now also be customized for added visual comfort.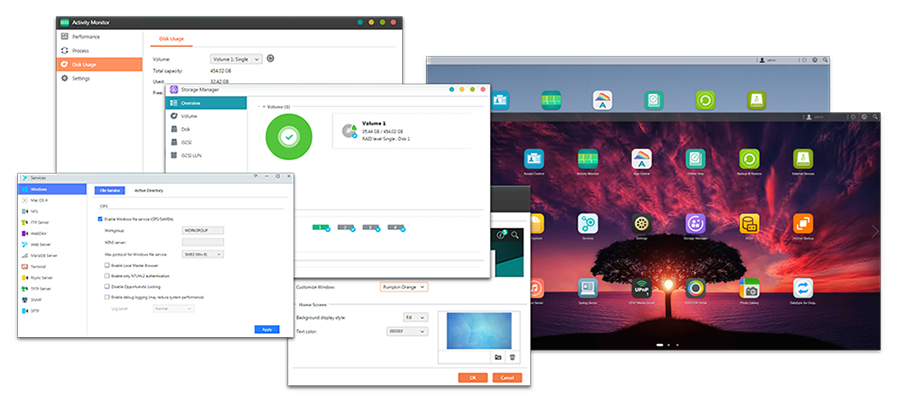 Get the Perfect Fit on Any Display
All App windows in ADM 3.0 can now be resized. The width of the internal side panels within windows can also now be adjusted. This is convenient for displaying longer file names and languages with lengthier words, ensuring that ADM can be comfortably displayed on small notebooks, big displays and everything in between.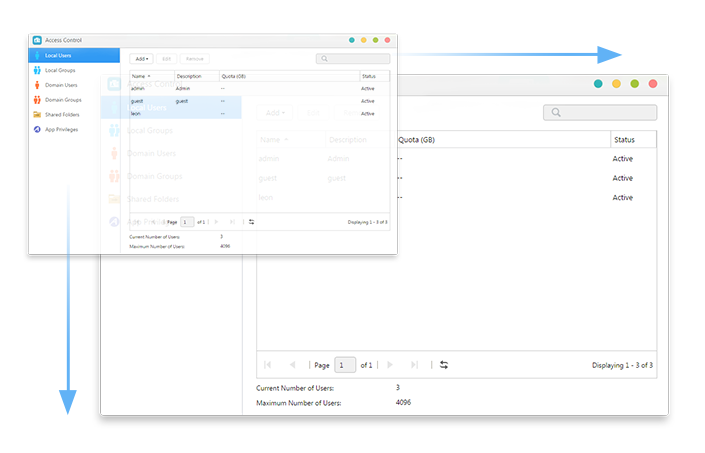 Brand New Interface Design Elements and Flexible Use of Desktop Space
ADM 3.0 provides a flexibly designed desktop layout that can provide an optimal configuration based on the display resolution. Furthermore, convenient App organization provided by the grouping function allows users to experience management that is very much like a tablet device.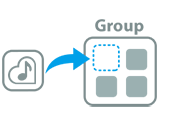 Drag icons to group them together and create a name for the group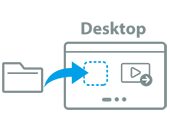 Drag and drop frequently used folder or files to the desktop to create shortcuts
Desktop Icon Sorting, Snapshots and Restoration
ADM provides desktop icon sorting, allowing users to always find the Apps that they need, while the desktop snapshot and restoration function allow users to quickly restore previous desktop arrangements using snapshots.
*Supports icon sorting according to name, time and type. The arrange closely option allows for icons to be displayed closely without any space between them.
*The creation of desktop snapshots allows for the preservation of the current desktop arrangement. The restore function can then be used to return the desktop to previous arrangements using snapshots that were taken.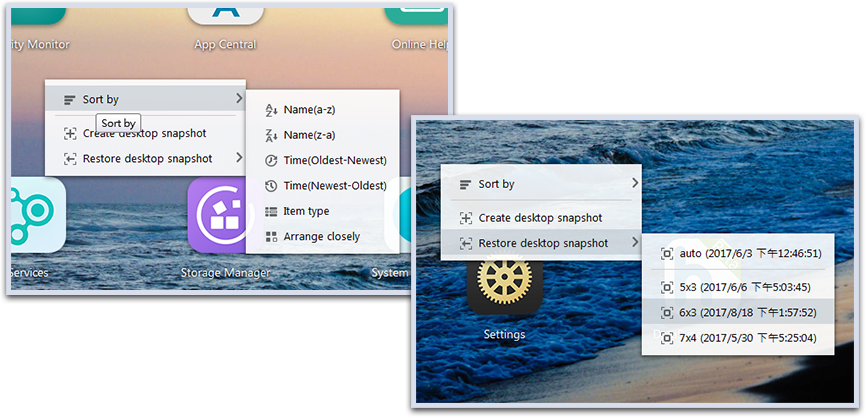 Multitasking:
True multitasking
Something else need your attention? With true multitasking you can instantly switch to another application and then switch back to the previous one to pick up right where you left off. ADM allows you to simultaneously run different applications all at once while giving you the power to seamlessly switch between them.

Background operation
Sometimes, tasks such as uploading or downloading multimedia may take some time. ADM is able to perform tasks such as these in the background, effectively freeing you up to complete other tasks.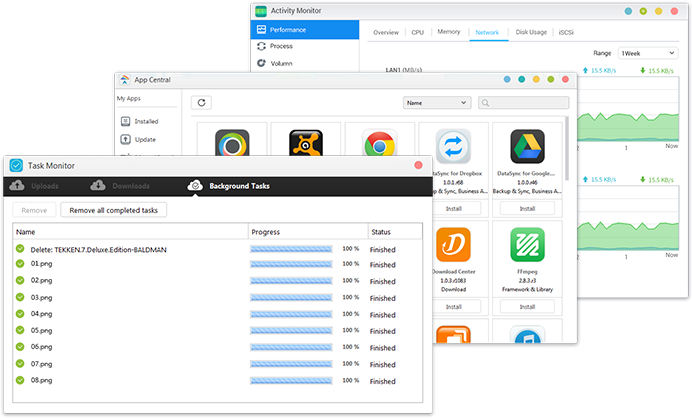 System Notifications:
Enjoy peace of mind
Always checking up on your NAS? Worried about your data and other digital assets? ASUSTOR NAS features real-time system event notifications allowing you to enjoy peace of mind knowing that you'll be notified about any major system events. Notifications can be sent via Email, SMS or push notification giving you a variety of ways to instantly stay on top of the latest developments.
Supported Email service provider: Google, Microsoft, Yahoo, Others (self-defined)
Supported SMS service provider: Clickatell, Pushbullet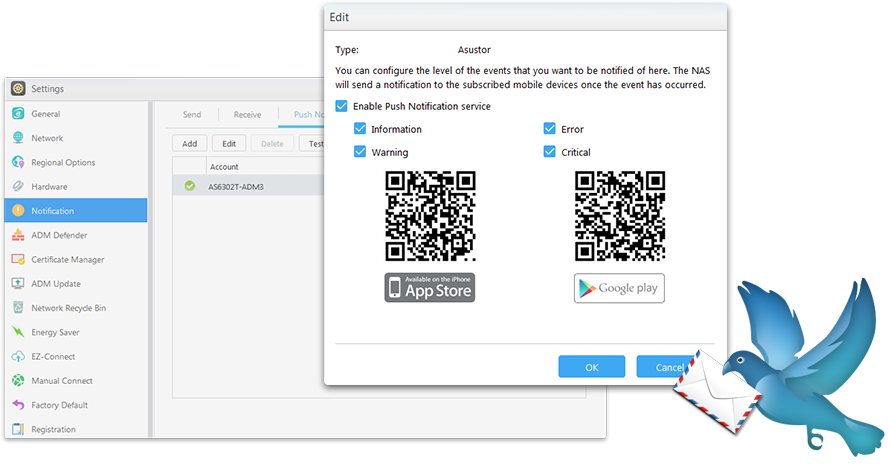 Integrates Pushbullet and Pushover Notification Agents
Pushbullet and Pushover provide push notification services over networks. These services are available on multiple devices, across different platforms and major Web browsers without costing any extra SMS fees. ASUSTOR NAS now integrates Pushbullet and Pushover notification agents into ADM. Any system event can now be pushed to your phone, mobile device, or PC instantly, shortening your response time.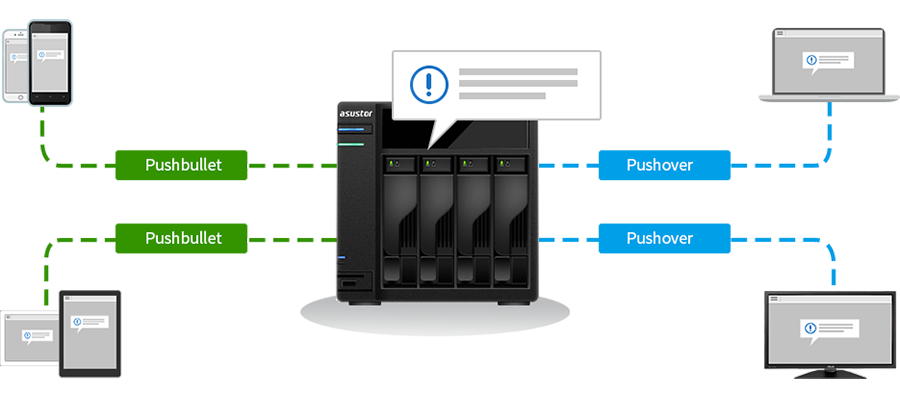 App Central:
Unleash unlimited potential
The applications that come pre-installed with each ASUSTOR NAS device are just the beginning. At your convenience, you can browse through and download any applications that pique your interest from App Central. App Central allows you to explore the unlimited potential of ASUSTOR NAS devices while creating a personalized NAS device for yourself.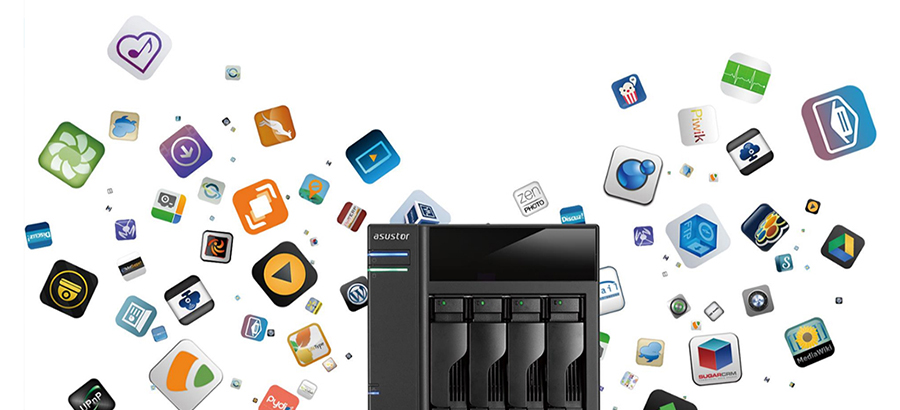 Many ways to browse
App Central gives users a multitude of options for exploring its content. Users can search for Apps using keywords or browse for Apps by category, popularity, recommendation and more. Multilingual support ensures that users from all over the world can comfortably browse in the language of their choice.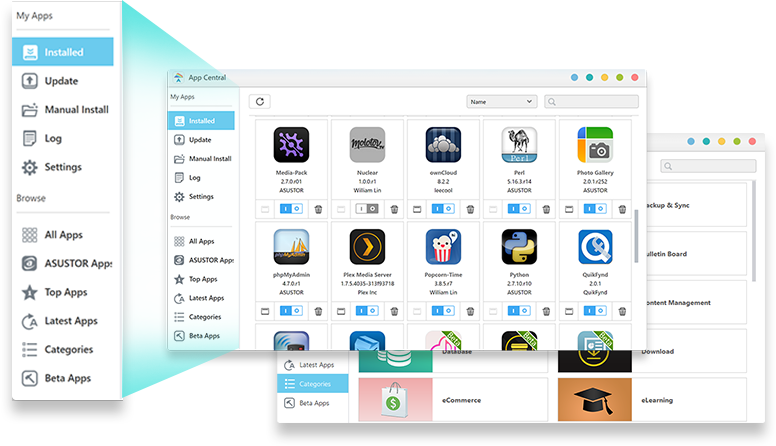 Countless Apps
Whether your interests lie in business, website construction or even digital home entertainment, App Central has got you covered. With over 200 unique Apps, App Central provides you with the boundless variety of applications that you require to satisfy your digital lifestyle needs.